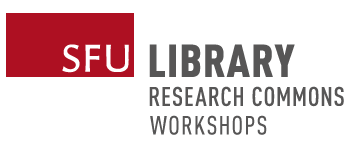 Workshop Dates
Thursday, August 6, 2020 -

9:00am

to

12:00pm
Location
via Zoom (link will be sent to participants 24 hours before the workshop/event begins)
------------
Notes:
This workshop will be run on the Zoom platform. You don't have to install the Zoom app on your computer, but it might make it easier to use all of the features. Make sure your computer has access to the internet via an up-to-date browser.
There will be a short break half-way through the workshop
------------
Computational analysis, also known as distant reading, provides access to information or insights about a text that would be nearly impossible to gather using methods of close reading and "manual" synthesis. This workshop is based on Matthew Jockers' book "Text Analysis with R for Students of Literature". We will provide an introduction to computational text analysis using the programming language R and look at 1-2 analysis techniques based on word frequency. 
This workshop is for beginners.
Software/Technical Requirements:
Facilitator:
Pegah Ziabari
Sina Nazeri
Last Modified: August 6, 2020