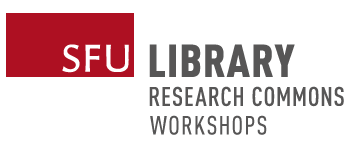 Dates
Thursday, February 13, 2020 - 1:00pm to 3:00pm
Location
Burnaby, Bennett Library, Rm 7010, Research Commons
This workshop is in the past and registrations are unavailable.
All times are Pacific Time Zone (Vancouver, BC, Canada).
Application Programming Interfaces (APIs) are parts of a website's code made available to the public, which can be used to query data in controlled amounts. Web scraping is described as the act of pulling down (usually large) amounts of data from a website. Though both are increasingly used as tools in scholarship, the ethics regarding the use of either of these tools is hotly debated: How should we store data that contains potentially sensitive and/or identifying information? Should scholars be beholden to a business's terms and conditions, even if that corporation is a multi-billion dollar company? APIs are legally sound, but what kinds of data should be scraped?
This tutorial will provide attendees with a basic understanding of APIs and web scraping, as well as the tumultuous history of using both in scholarship. Attendees will then be encouraged to participate in critical discussion surrounding the ethics of each for scholarly use.
Notes:
This workshop is geared towards participants who want to use APIs and web scraping in their own research, or who have used these methods and are interested in discussing their ethical considerations. Therefore, prior knowledge of APIs or web scraping is useful but not required.
Please bring a laptop.
Note location: This workshop was originally scheduled in Room 7301; it is now in the Research Commons, Room 7010.
Note title: Formerly called "Introduction to using APIs: Wikipedia and Twitter"; description has also changed (effective January 21, 2020)
---------