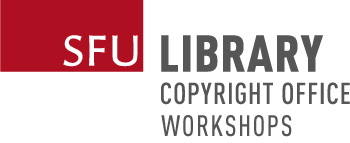 Dates
Thursday, April 29, 2021 - 10:00am to 11:00am
Location
via Zoom (link will be sent to participants 24 hours before the workshop/event begins)
This workshop is in the past and registrations are unavailable.
All times are Pacific Time Zone (Vancouver, BC, Canada).
Are you recording lectures for your students? Are you wondering how you can move some teaching materials or classroom activities online, such as in-class movie screenings? Do you upload readings or other materials into Canvas? All of these activities can implicate copyright.
In this workshop the SFU Copyright Office will explain how you can use copyright protected materials in remote teaching, and how to find materials with fewer restrictions such as Open Access and other openly-licensed works. We will explain your rights as the creator of your course materials.
Bring your copyright questions and concerns.
If you can't make it, the Copyright Office welcomes requests for custom workshops or presentations for your department or class - contact us to schedule. Visit the copyright website (copyright.sfu.ca) for FAQs, resources and videos. And of course, contact the Copyright Office (copy@sfu.ca) at any time, with any copyright questions.
------------
Note: This workshop will be run on the Zoom platform. You don't have to install the Zoom app on your computer, but it might make it easier to use all of the features. Make sure your computer has access to the internet via an up-to-date browser.
------------