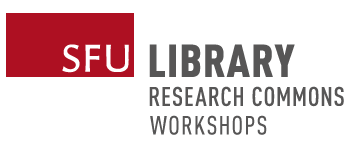 Workshop Dates
Saturday, January 18, 2020 -

9:30am

to

11:00am
Location
Surrey, Galleria 3, Rm 3280
Cancellation deadline date: January 11, 2020
You must cancel by this date to avoid a $25 non-attendance fee applied to your library account in accordance with SFU Library's Cancellation Policy.
-------------------
This workshop is part of All in a Day: Research Toolkit - a suite of our most popular workshops for graduate students and postdoctoral fellows. Mid-morning refreshments will be served at 11:00am
-------------------
Facilitator: David Gill, Reference Librarian
Want to make your research and writing more efficient? Hate the last minute rush of trying to create a correctly formatted bibliography? This workshop is for you! We will introduce Zotero, a citation management tool that can help you import, organize, share, and manage your citations and documents, as well as create correctly formatted in-text citations and bibliographies in almost any style -- in seconds.
Bring your laptop: this interactive workshop will cover registration, installation, and everything that you need to know to get up and running with Zotero.
Last Modified: December 18, 2019