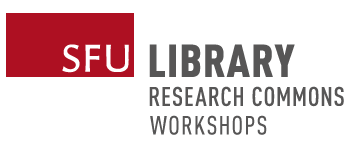 Dates
Tuesday, October 24, 2023 - 10:00am to 11:30am
Location
via Zoom (link will be sent to participants 24 hours before the workshop/event begins)
Registration dates
open until Monday, October 23, 2023 - 6:00am
All times are Pacific Time Zone (Vancouver, BC, Canada).
About the workshop
The creation of spatial data is no longer confined to government entities, commercial corporations and GIS professionals.  Volunteered Geographic Information has been on the rise, with OpenStreetMap (OSM) being a prominent example as a map of the world created by volunteers. Unlike Google Maps, OSM data is free to download and use in a GIS capable format. Also, OSM uses a community-based tagging system to describe and organize its mapped features, which in many cases provide great value to communities, but are not monetarily lucrative (e.g. gender-neutral washrooms, biking racks, wheelchair accessible places, etc). This Wheelmap (the data is pulled from OSM) is an example. Despite the extensive coverage and unique value of OSM data, it has been underused by academia. This workshop will introduce you to how to find, explore, and download OSM data.
By the end of this workshop, you will be able to:
Understand how OSM stores, describes, and classifies data by a community-based tagging system.  

Explore, query, and download OSM data by tags in Overpass Turbo, a web-based tool.  
This workshop caters to people with any level of GIS expertise, including beginners. If you are curious about what data is there in OSM that might be hard to find elsewhere (i.e., locations and information of gender-neural washrooms, bike racks), and/or how you can use the data for your research project, for example, to make a map/app or do spatial analysis, this workshop is right for you. 
 

Software Requirements
None.