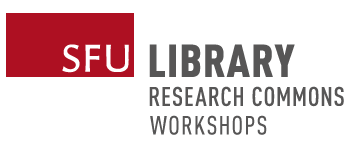 Dates
Thursday, June 3, 2021 - 10:30am to 12:00pm
Location
via Zoom (link will be sent to participants 24 hours before the workshop/event begins)
This workshop is in the past and registrations are unavailable.
Registration dates
closed Wednesday, June 2, 2021 - 6:00am
All times are Pacific Time Zone (Vancouver, BC, Canada).
Many GIS projects require georeferencing images including aerial photographs, scanned historical maps, satellite images and etc. Georeferencing is the process of relating internal image coordinates to real-world geographic coordinates, so that GIS software can 'place' the image in its appropriate real world location. This workshop will guide you through the process of georeferencing an image using QGIS, a free and open-source cross-platform desktop GIS application. 
At the end of this workshop you will be able to:
Understand the basics of QGIS;
Understand different types of data;
Define georeferencing;
Understand coordinates;
Understand transformations;
Understand raster alignment; and
Georeference an image.
The workshop will be driven by this inquiry: how has the False Creek changed since 1877? The end result of our georeferencing process will be this:
Image: Georeferenced images of Map of portion New Westminster District showing the original shoreline of False Creek, overlaid on the current OpenStreetMap. 
Software: 
Please install QGIS, a free and open source GIS platform, on your computer beforehand. QGIS is available on Windows, macOS, Linux and Android.