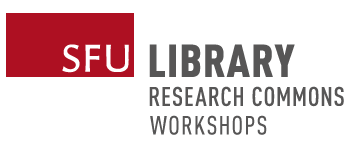 Dates
Tuesday, June 29, 2021 - 10:00am to 12:00pm
Location
via Zoom (link will be sent to participants 24 hours before the workshop/event begins)
Registration dates
open until Monday, June 28, 2021 - 6:00am
All times are Pacific Time Zone (Vancouver, BC, Canada).
Maps are great tools for enhancing how you communicate your research to diverse audiences, and when combined with compelling storytelling empowered by web technology, the communication will be even more impactful!  ArcGIS StoryMaps is an online storytelling tool that enables you to integrate interactive maps from ArcGIS Online with multimedia content (audio, video, graphs, charts, apps, and more) to create an immersive storytelling experience.
Looking for inspiration? Check out the story maps gallery to see the ways that story maps have been used across disciplines, or these two story maps created by SFU researchers, both of which serve as a compelling, public-facing communication venue for the research projects:
This workshop will cover:
Create a story on ArcGIS StoryMaps: add texts and multimedia content
Create a web map on ArcGIS online and embed it in StoryMaps.
Software
You need to send email to gis-software@sfu.ca to request an ArcGIS online account if you wish to participate the hands-on part.
This workshop is part of the Web GIS Workshop Series
In the past decade, revolutionary internet technologies have driven Geographic Information System (GIS) to expand far beyond the professional GIS community. Many individuals who lack traditional GIS trainings- engineers, entrepreneurs, journalists, researchers- have been involved in web cartography work. The empowerment is fueled by geospatially enabled technologies such as Global Positional Systems (GPS), the Internet, and user-friendly cartography tools. This workshop series will give you a taste of this new ecosystem, introducing you to a range of concepts, tools, and skills which include how web map is structured, how to create one, how to collaboratively collect field data and populate to a shared web map, and how to combine maps and digital storytelling to communicate your research.
All workshops in this series are designed for beginners- no previous GIS knowledge is required. Attend as many or as few sessions in this series as you like - you must register for each one you're interested in.
Facilitator
Rémi Castonguay
Sarah Zhang
Sophia Han