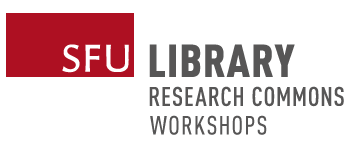 Dates
Tuesday, July 28, 2020 - 10:00am to 12:00pm
Location
via Zoom (link will be sent to participants 24 hours before the workshop/event begins)
This workshop is in the past and registrations are unavailable.
All times are Pacific Time Zone (Vancouver, BC, Canada).
Many humanities researchers have some form of geographical information included in their research, such as objects, images, or texts from or about a particular place; narratives about a person's movement or a place's change over time; or information about networks of people or organizations. Whether places and spaces are at the heart of your research or are a part of it, mapping can help answer research questions and generate new ones by visualizing your data in new ways. It can help tell a story about place or space. 
This workshop will cover spatial analysis - the potential applications of your geographic information. We will demonstrate the analytic functions included in ArcGIS and discuss how to create context for your spatial data. We will also introduce Story Maps, an app that helps turn place-based information into narratives with a combination of maps, images, and text. Note: for this workshop, we will assume that you have already attended the first workshop or are comfortable with the material covered there.
By the end of this workshop, participants will be able to:
create a Story Map;
extract spatial context from text.
Software: ArcGIS Online. You do not need to install any software. However, if you wish to participate during the hands-on portion, please send an email to gis-software@sfu.ca at least one day before the workshop date to request an ArcGIS online account.
Workshop page (SFU Canvas): GIS workshops page includes workshop descriptions and suggested streams for different disciplines, handouts, slides, and example datasets
Register for Part 1 here:  Introduction to Spatial Data in Humanities: The Spatial Elements of Textual Analysis [Online]
------------
Note: This workshop will be run on the Zoom platform. You don't have to install the Zoom app on your computer, but it might make it easier to use all of the features.
------------