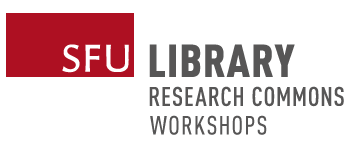 Workshop Dates
Friday, July 24, 2020 -

9:00am

to

11:00am
Location
via Zoom (link will be sent to participants 24 hours before the workshop/event begins)
This workshop was originally scheduled for June 16 @ 10am to 12pm.
------------
Note: This workshop will be run on the Zoom platform. You don't have to install the Zoom app on your computer, but it might make it easier to use all of the features. Make sure your computer has access to the internet via an up-to-date browser.
------------
GIS software doesn't have to be expensive! QGIS is a free, open source GIS platform with powerful tools and wide variety of plugins. Learn how to use the basic tools in QGIS for your spatial projects. 

Learning Outcomes: By the end of this workshop you will be able to:
Import data to and export data from QGIS
Edit data within QGIS
Do basic vector analysis in QGIS
Do basic raster analysis in QGIS
Export simple maps using the layout manager
Software: Please install QGIS on your computer beforehand. QGIS is available on Windows, macOS, Linux and Android.
Core Competencies: vector analysis, raster analysis, data management
Last Modified: June 29, 2020