On this page
The Pacific Socialist Education Association's Pacific Tribune Photograph Collection comprises over 40,000 35-mm images taken for the weekly Vancouver labour newspaper Pacific Tribune. The images cover a twenty-year period, from 1972 to 1992, one of the most active periods in British Columbia's labour history.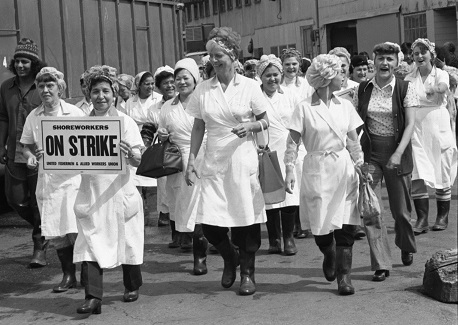 Shoreworkers leaving Confisco plant on UFAWU [United Fishermen and Allied Workers Union]
strike deadline, 1975.  Image MSC160-155_14A
Collection history
Originally established by the Communist Party of Canada as the B.C. Workers' News in 1935, the newspaper began publishing under the name Pacific Tribune in 1946. For most of its history, it relied on photographs borrowed from other publications for illustration and the year 1972 marked the first time that staff was specifically assigned to photography. Associate editor, and later editor, Sean Griffin shot photographs for the paper throughout the twenty years, and he was later joined on staff by another writer-photographer Dan Keeton, who began work in 1982 and continued until the paper ceased publication in 1992. In addition to their regular use in the Tribune, many of the photographs also appeared in other labour newspapers, journals and books in B.C.
The beginning of the collection coincides with the period immediately following the election of the province's first New Democratic Party (NDP) government in 1972. It covers the period from the mid-1970s through the 1980s when wage control programs and government austerity programs were emerging as a key feature of the B.C. economy and the province's labour movement was intensely active in defending labour rights and collective agreements.
Highlights
Included in the collection are images from some of the most tumultuous events involving British Columbia's labour movements:
the province-wide campaign against insurance rate increases introduced by the new Social Credit government in 1976
the opposition to federal wage controls that culminated in a one-day national work stoppage in 1976
the historic Solidarity movement in 1983
labour's campaign — that also included a one-day work stoppage in 1987 — against government legislation that severely curtailed the right to organize unions and bargain collectively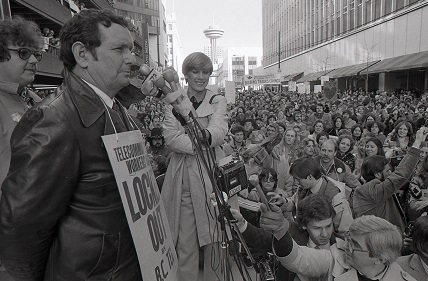 British Columbia Federation of Labour rally outside [William Farrell] Building, 1981. Image MSC160-589_2A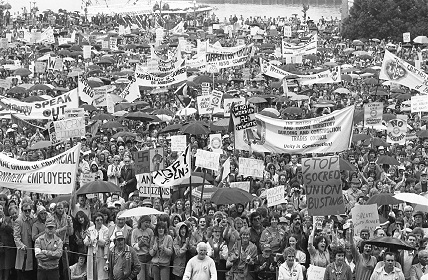 Solidarity rally, Legislature, [Victoria], 1983. Image MSC160-863_17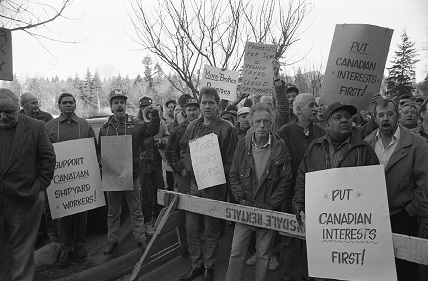 Shipyard workers greeting Wilson re: budget, 1990. Image MSC160-1887_24
The collection is also a rich source of images from political and other social movements, including:
rallies and campaigns for human rights
internationally recognized Vancouver walks for peace during the mid-1980s
anti-poverty and housing movements
womens' rights
First Nations' movements
environmental campaigns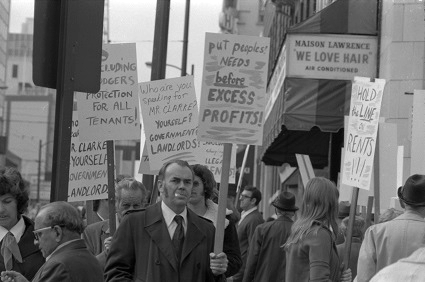 Tenants demonstration outside Rentalsman's office, 1974. Image MSC160-96_06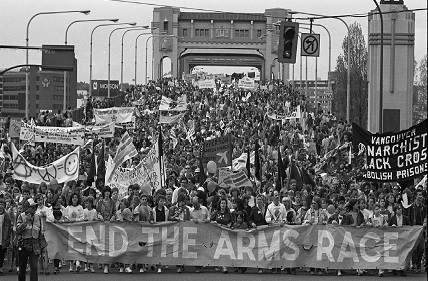 Walk for Peace, April 23, 1983. Image MSC160-1606_17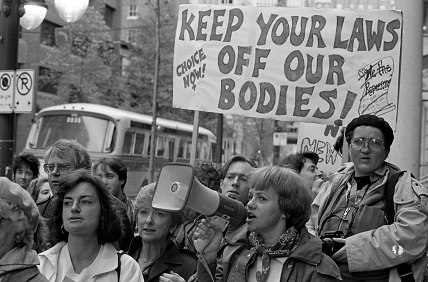 B.C. Abortion Clinic Coalition rally against new abortion bill, 1989. Image MSC160-1851_19A
Digital collection
Over 4,500 of these images have now been digitized and made available online with the assistance of the Pacific Socialist Education Association and the Irving K. Barber Learning Centre's "B.C. History Digitization Program". Many of the images are accompanied by descriptive text contributed by Griffin and Keeton that further details and contextualizes the events documented. Educational and not-for-profit use of the images is encouraged -- please see the collection page for more details.
Listen to Sean Griffin and SFU Professor Mark Leier discuss the Pacific Tribune Photograph Collection and its unique documentation of British Columbia's labour, political and social history.