During COVID-19, individual SFU-affiliated researchers (current students, faculty, staff) may book two-hour appointments in the SCRB reading room.
Appointments must be requested at least one week in advance.
For more details, including available days and times, safety requirements, and how to request an appointment, see Booking appointments during COVID in Special Collections and Rare Books.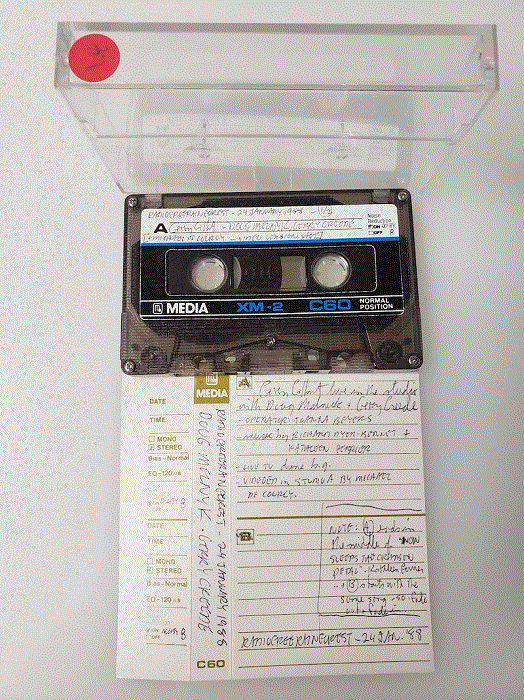 Access the digital collection or visit in person
With the generous financial support of the Irving K. Barber Learning Centre's B.C. History Digitization Program and the SSHRC-funded SpokenWeb project, we have digitized and put online approximately 272 audio tapes of the radiofreerainforest broadcast, along with descriptive metadata, from the Gerry Gilbert fonds (MsC 13, Contemporary Literature Collection).
You can also play the tapes and view the fonds in Special Collections and Rare Books.
Collection history
Gerry Gilbert (1936-2009) was an important member of the Vancouver literary and artistic community from the 1960s until the time of his death.  
A prolific poet, he published nearly twenty books over a span of forty years, including White Lunch (1964), Phone Book (1966), I'm Getting Tired of Hallucinations (1976), So Long Song (1988), Year of the Rush (1994) and Moby Jane (2004).  From 1972 till 2006 he published the writing anthology magazine, British Columbia Monthly.  
Sometimes known as Vancouver's 'Bicycle Poet', he was an underground figure who actively rejected the mainstream of Canadian literature.
In addition to his work as a poet, he was a filmmaker, photographer, and performance artist.  His visual art was exhibited at Vancouver Art Gallery, The National Film Board of Canada, the Morris and Helen Belkin Art Gallery, the Western Front and the Contemporary Art Gallery.
Gilbert also hosted the radiofreerainforest broadcast, "a weekly record of literary Vancouver in motion" (Gilbert) that aired on Vancouver Co-op Radio CFRO-FM from spring 1985 to the late 1990s. 
In 1990 SFU Library Special Collections and Rare Books acquired 
his archive
, including the radiofreerainforest tapes, for the Contemporary Literature Collection; we received more materials in 1992 and 2011. 
Highlights
Each week radiofreerainforest presented interviews, readings, and discussions with local, national and international literary figures such as:
George Bowering
bill bissett
Maxine Gadd
Al Neil
Judith Copithorne
Fred Wah
Daphne Marlatt
Lisa Robertson
Susan Musgrave
Maria Hindmarch
Kevin Davies
Peter Culley
Steve McCaffery
bpNichol
Robin Blaser
Allen Ginsberg
Anne Waldman
William Burroughs
Bruce Boone
Clark Coolidge
Lyn Hejinian
and numerous others, including Gilbert himself.
The recordings provide insight into both the local and the North American literary landscape and chronicle a great many important writers during the 1980s and 1990s in conversation with a leading member of the Canadian writing and arts scenes.
Categories and subcategories
Vancouver poets and writers
B.C. poets and writers
Canadian poets and writers
American poets and writers
International poets and writers
Modern poetry
West Coast poetry
TISH poets
Downtown poets