Donated to the Simon Fraser University Library in 2016, the Fisherman Publishing Society fonds includes nearly 45,000 photographs taken for possible publication in the newspaper, as well as an almost complete run of the newspaper from 1937 to 1999 (issues for 1949 are missing).
Collection history
The Fisherman Publishing Society was formed in 1937 to publish The Fisherman, a bi-weekly newspaper. Sponsored by the Salmon Purse Seiners Union and the Pacific Coast Fishermen's Union, the newspaper documented industry events and encouraged unity among West Coast fishermen; today, the newspaper continues publication under the United Fishermen and Allied Workers' Union (UFAWU).
The records document a tumultuous period in one of British Columbia's oldest industries, with a particular focus on workers and union. They record both visually and in written form important events in the province's labour history and the evolution of the fishing industry, particularly in the last two decades of the twentieth century.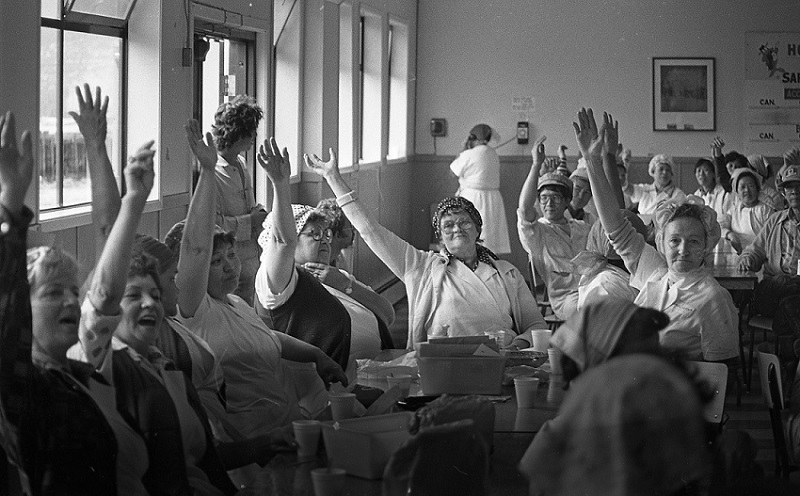 [United Fishermen and Allied Workers Union shoreworkers at the Canadian Fish Company
show their support for contract negotiations, early 1980s] Image MSC 179-31632
Highlights
Dating from circa 1936 to 2001, the photographs represent the depth of the collection, and document:
United Fisherman and Allied Workers' Union conventions, meetings and events
Labour demonstrations, protests and negotiations
Commercial fishermen and shoreworkers
Fish processing plants / canneries
Commercial fishing boats and equipment
The majority of the photographs date from after 1980.
Accompanying issues of The Fisherman provide context and additional information for the photographs.
Digital collection
With the generous financial support of Irving K. Barber Learning Centre's "B.C. History Digitization Program," over 4,500 photographs and the entire run of newspapers from the Fisherman Publishing Society fonds have been digitized and put online with descriptive metadata. Digitized issues of The Fisherman newspaper are keyword searchable.