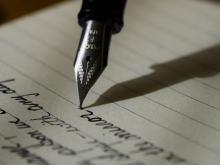 Published by Hermine Chan
SLC Graduate Facilitator, Daniel C. shares his thesis statement tips with us in a video! 
Published by Julia Lane
For the third year in a row, the SLC will host an undergraduate writing contest. 
All contest details, and the submission page, can be found here: https://journals.lib.sfu.ca/index.php/slc-uwc
The contest opens on November 29th and  submissions will continue to be accepted until January 5th 2020 (at midnight).

Published by Julia Lane
Have an argumentative or thesis-based essay coming up for one of your classes? Check out this blog post to help you develop a thorough and well-supported argument! 
Thank you to Teeba Obaid, PhD Candidate in the Faculty of Education, for contributing this post to the blog!