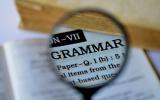 Published by Julia Lane
Does this word need an "s"? An apostrophe? An apostrophe "s"? 
If you often find yourself asking such questions, you've come to the right place.
And what better time to get those answer than when you are stuck inside between (the strangest) spring term and the forthcoming (entirely remote) summer term? 
Here to finally complete the promised three part series on common expression errors, it is Apostrophe Angst! 
If you want to review the previous two posts, you can read them here: 
Part 1: Subject-verb agreement 
Enjoy! 
Be safe. Be well. Use grammar.