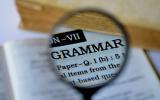 Published by Julia Lane
Former Writing and Learning Peer Deeya B. is back with an ongoing, occasional series about revising your work, with a specific focus on grammar. This series is part of the larger blog feature "Grammar Camp." 
In this post, Deeya focuses on the use of articles ("the" and "a(n)") and how to self-edit your writing with an eye to your article use.