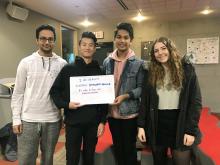 Published by Julia Lane
SFU's Academic Integrity week is September 28 - October 2, 2020.
We know that this year is unlike any we've had before. You are learning from your own home, in front of a computer. In this context, academic integrity can be even more challenging than usual. It is also even more important. 
Participate in academic integrity week to learn more about how to complete your work with integrity, and to celebrate the ways you already approach your learning and your work with honesty and integrity.