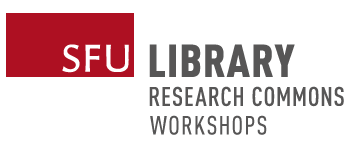 Dates
Friday, May 28, 2021 - 9:00am to 12:00pm
Friday, June 4, 2021 - 9:00am to 12:00pm
Friday, June 11, 2021 - 9:00am to 12:00pm
Friday, June 18, 2021 - 9:00am to 12:00pm
Friday, June 25, 2021 - 9:00am to 12:00pm
Friday, July 2, 2021 - 9:00am to 12:00pm
Friday, July 9, 2021 - 9:00am to 12:00pm
Friday, July 16, 2021 - 9:00am to 12:00pm
Location
via Zoom (link will be sent to participants 24 hours before the workshop/event begins)
This workshop is in the past and registrations are unavailable.
Registration dates
closed Tuesday, May 25, 2021 - 4:00pm
All times are Pacific Time Zone (Vancouver, BC, Canada).
 About the Thesis Writing Group
Join the Thesis Writing Group to make some serious progress on your thesis! The Thesis Writing Group is modeled after other successful online writing groups that use scheduled time to work on their writing with the (quiet) presence and support of other writers. The Research Commons remains devoted to supporting SFU graduate student researchers, even though we are now working from a distance!
What you can expect
The Thesis Writing Group will be held via Zoom. It will be hosted and moderated by members of the Graduate Writing Facilitator team, who will be available for writing support, along with a Librarian for research support. An Assistant for Theses will also be available for some of the sessions for any questions about using the thesis template, formatting, or the thesis submission process. Optional mini workshops on topics such as library research techniques, copyright, and scholarly communication will be offered some weeks. The sessions will be held on Fridays, 9:00 am – 12 noon for 10 weeks, starting Friday, May 20, 2022 and concluding July 29, 2022.
 The online writing group format
Some of you may already be familiar with or have participated in online writing groups. For both those with and without experience, we encourage you to join us for this unique experience! Like Thesis Boot Camp that some of you may be familiar with, the group will begin each session by briefly checking in and setting goals in small groups before turning to dedicated writing time. Participants can request support from our team through the chat feature, and consultations/discussions will take place in a breakout room. The 3-hour sessions will conclude with the group coming together and discussing any reflections or areas of interest/concern.
Writers will be asked to keep their microphones muted while writing, and the use of webcams is welcome but entirely optional for each participant. 
 Registration is for ten weeks
Registration is available for all 10 weeks of sessions combined. We ask that registered participants commit to attending each session to the extent that their schedules allow, and that those who would like to join but know in advance that they will not be available to attend one or several sessions to please let us know in advance. Similar to Thesis Boot Camp registration, this is to ensure that we offer ample resources to best support students dedicated to making serious progress on their theses during this time period.
Please register by Wednesday, May 18 at 4:00pm, after which registrants will be contacted with a confirmation and further instructions.
If you have any questions about the Thesis Writing Group, please contact Robyn Long, Writing Services Coordinator for graduate students, at robyn_long@sfu.ca.