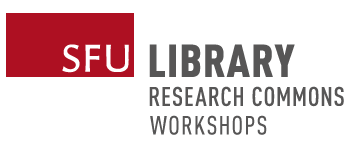 Dates
Monday, July 12, 2021 - 3:00pm to 5:00pm
Tuesday, July 13, 2021 - 3:00pm to 5:00pm
Wednesday, July 14, 2021 - 3:00pm to 5:00pm
Thursday, July 15, 2021 - 3:00pm to 5:00pm
Friday, July 16, 2021 - 3:00pm to 5:00pm
Location
via Zoom (link will be sent to participants 24 hours before the workshop/event begins)
All times are Pacific Time Zone (Vancouver, BC, Canada).
This multi-day workshop is designed for non-science students interested in the statistical computing program R. No prior knowledge of R is required. Often data outside of the sciences includes textual data, such as a corpus or series of surveys. In this workshop we'll learn how to process textual data in R, as well as the basic skills to start analyzing it. Specific topics covered include the R environment (directories, workspace, scripts, and packages), data structures (vector, matrix, data frames, lists), and the beginnings of simple data analysis (built-in statistical packages, elementary statistics, etc.).
Note: Workshop participants will need have R and RStudio installed on their device prior to joining the workshop.
Attendance requirement:
You need to attend all 5 days. Different topics are covered each day and it builds on materials covered on the previous day, so if you miss a day, we won't have the resources to help you catch up in this online environment. A rough draft of the topics being covered each day will be forthcoming. They will be refined each day as required.
Day 1 (July 12): Introduction to programming with R and RStudio. 
Day 2 (July 13): Introduction to data structures.
Day 3 (July 14): Reading/Writing files and importing data. 
Day 4 (July 15): Plotting.
Day 5 (July 16): Introduction to Tidyverse.
Facilitator
Laura Gutierrez Funderburk
Ric Hohn