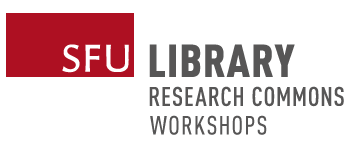 Dates
Wednesday, July 28, 2021 - 12:00pm to 2:00pm
Location
via Zoom (link will be sent to participants 24 hours before the workshop/event begins)
This workshop is in the past and registrations are unavailable.
Registration dates
closed Tuesday, July 27, 2021 - 6:00am
All times are Pacific Time Zone (Vancouver, BC, Canada).
Are you interested in social media data analysis? In this workshop, we will explore NVivo's capacity to collect and analyze various social media using the Chrome plug-in nCapture.
Requirements:
This workshop assumes that you already have some familiarity with NVivo and/or will have taken the "Introduction to NVivo" workshop.
Before the workshop, participants should download and install the latest version of NVivo. You can download NVivo and the license key with your SFU computing ID by using the self-serve download link here. If you are unable to get past the authentication page, then please email nvivo-rc@sfu.ca.
We will be using the Windows (PC) operating system and the interface is very different from the Mac operating system