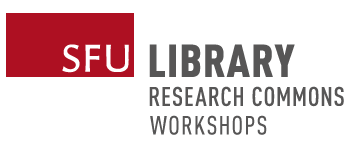 Dates
Wednesday, January 25, 2023 - 10:00am to 11:30am
Register
See registration details below.
All times are Pacific Time Zone (Vancouver, BC, Canada).
About the workshop
Knowledge mobilization is all about ways we can do more with what we know to ensure research and community (practice, policy, public) comes together to have a positive impact on society. In this workshop, we introduce you to the language, strategies, and opportunities for doing more with what you know. Lupin Battersby, SFU's Knowledge Mobilization Manager will facilitate this interactive session with Ali Moore, Digital Scholarship Librarian from the SFU Library Research Commons.
Learning Objectives
Familiar with knowledge mobilization terminology including different disciplines
Able to consider using a KM model or framework to guide KM planning
Know the building blocks of writing a KM plan including setting goals, selecting strategies, and budgeting
Aware of SFU KM related supports and resources
Facilitator(s)
Ali Moore
Lupin Battersby