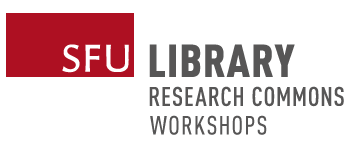 Dates
Tuesday, November 3, 2020 - 12:30pm to 1:15pm
Location
via Zoom (link will be sent to participants 24 hours before the workshop/event begins)
This workshop is in the past and registrations are unavailable.
All times are Pacific Time Zone (Vancouver, BC, Canada).
Interested in starting your own podcast, but not sure how? Join podcaster Assistant Professor of Publishing Hannah McGregor (Secret Feminist Agenda, The SpokenWeb Podcast) to learn about the different styles of academic podcasts, the technological challenges of creating good audio, and the pleasures (and perils!) of building a public audience for your research.
Presenter:
This workshop is part of the Knowledge Mobilization Lunch and Learn series.
All times are Pacific Time Zone (Vancouver, BC, CANADA time). Registration opens on August 31, 2020.
------------
Note: This workshop will be run on the Zoom platform. You don't have to install the Zoom app on your computer, but it might make it easier to use all of the features.
------------
Unlock your research impact: A knowledge mobilization lunch and learn series provides a 'how to' introduction to different knowledge mobilization (KM) activities. Topic experts covering a range of strategies for engaging, collaborating, and sharing research with your community will facilitate each session. A new KM strategy every month for all faculty, students, and staff interested in leveling up their research impact. Attend as many or as few sessions as you like.
--------------
Description: