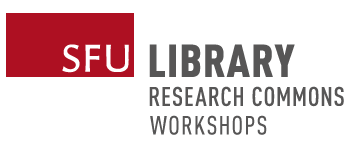 This interactive workshop introduces importing and coding of literature review materials and key tools that can be particularly helpful when reviewing literature in your area of research.
Topics covered include:
introducing NVivo and setting up a project
working with your information
identifying themes, topics and ideas and collecting data to support them
using tools such as text search query, matrix coding query, and Framework Matrix.
What will you achieve from this session? You will have the knowledge to set up a literature review in NVivo, and begin to work with your information. You will also be able to use NVivo to organize your content and begin to identify themes, topics or ideas. It is appropriate for those who have had some experience with NVivo. For more information about NVivo at SFU, please visit NVivo Software for Research Analysis.
Participants should also have some familiarity with citation management software (Zotero, Mendeley, Refworks, EndNote, etc). Zotero will be used during this workshop.
Note: This workshop takes place in a Mac Lab, so you don't need to bring your own Mac laptop. However, if you would like to use your own Mac laptop, then please install the latest version of NVivo for Mac before coming to the workshop.
Register for upcoming workshops
No upcoming instances of this workshop found.