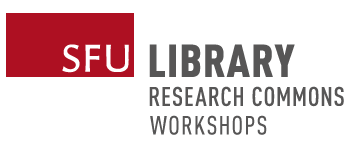 Workshop Dates
Tuesday, September 24, 2019 -

10:00am

to

4:00pm
Location
Burnaby, SFU's Big Data Hub (Applied Science Building - Flexible Meeting Room ASB 10908)
Cancellation deadline date: September 17, 2019
You must cancel by this date to avoid a $25 non-attendance fee applied to your library account in accordance with SFU Library's Cancellation Policy.
------------------
Tableau is a data visualization tool that can help you analyze your data and illustrate the patterns and insights behind them. This interactive workshop will introduce researchers to Tableau Public, a free access version of Tableau.
You will leave this workshop with an understanding of how to:
connect datasets to your Tableau workbook;
create a variety of basic chart types (including bar charts, line graphs, and maps);
use Tableau's built-in analysis features, like reference lines, trend lines and calculated fields; and
publish and share publication-quality interactive charts and graphs.
Requirements: 
Participants will need to bring their own laptop and charger. Before the workshop, please download and install the latest version of 
Tableau Public
 to your laptop.
Notes: 
Facilitator:
Ali Moore
Kate Shuttleworth
Last Modified: September 24, 2019