Celebrate Open Access Week with SFU Library 
October 20 - 26, 2014
Student Publishing: Why Student Journals Matter and How to Get Started
Date: Monday, October 20, 2014 - 12:30pm to 1:20pm, Burnaby,
Location: Bennett Library, Rm 7200, SFU Burnaby
Join us in this session about student publishing, with a focus on student-run peer-reviewed journals at both the undergraduate and graduate levels.
Student publishing provides numerous benefits to students, faculty, and the university, as well as unique challenges. Though students have always been consumers of knowledge, many are not yet skilled in evaluating the quality of peer-reviewed articles, and few have created knowledge for dissemination. Contributing to a student journal is often a student's first opportunity to add to the world's knowledge in a public way.
Our panel of experts will discuss why student journals matter, the benefits and unique challenges involved, and what the key issues are that students should be aware of when creating, evaluating, and disseminating peer-reviewed research. Tips and guidance will be provided on how to get started with setting up, operating, and maximizing credibility and exposure for a student journal.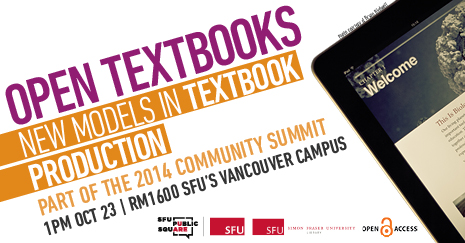 Open Textbooks: New Models in Textbook Production 
Date: Thursday, October 23, 2014 -- 1:00pm to 2:30pm
Location: Harbour Centre, Rm 1600, SFU Vancouver
Register for Free - RSVP Required
Open textbooks are innovating and disrupting the traditional model of textbook publication. In celebrating Open Access Week, SFU Library is delighted to bring together a range of perspectives on open textbooks. Students spend roughly $1,000 per year on textbooks, and are increasingly advocating for freely available textbooks. In this province, BCcampus has been overseeing the Open Textbook Project, which involves creating 40 open textbooks in a variety of disciplines, and many faculty members have started to adopt or adapt open textbooks for their courses. Join us for an interactive session featuring three speakers actively engaged in the production, adoption, and use of open textbooks. Bring your questions and comments to this open discussion.